JACO Helps Utilities Get Greener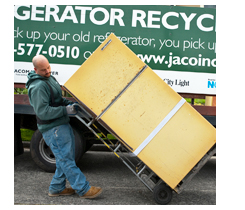 With JACO as your partner, your utility is set to offer an appliance recycling program that not only saves energy, it also helps you and your customers protect the environment in many other ways:
Reduces Carbon Emissions - Some of the refrigerants in refrigerators and freezers can be ozone depleting, but all are greenhouse gasses that contribute to global warming. JACO's process captures these gases from the cooling system and either recycles or destroys them. Many of these appliances also contain polyurethane foam insulation that was made with CFC-11 or HCFC-141b. Traditional disposal of this material into landfills results in the release of chlorofluorocarbons into the atmosphere as the foam decomposes. JACO pioneered the large-scale implementation of a process to handle and destroy this foam in a way that prevents the release of these chemicals into the environment.
Disposes of Hazardous Waste Responsibly - All JACO appliance recycling programs ensure that any hazardous materials found in appliances, such as PCBs and mercury, are properly handled by destruction or recycling.
Qualifies for EPA RAD Program - JACO processes and reporting allow its utility partners to qualify to join the EPA's Responsible Appliance Disposal (RAD) Program. This program offers utilities significant "green" branding benefits.
"The results of EPA's
Responsible Appliance Disposal (RAD) Program would not be possible without JACO. Your technology, combined with your consistent excellence in logistics and overall operations, has raised the bar for comprehensive and verifiable appliance disposal in North America, providing enormous benefits to the Earth's climate system and the ozone layer."
- Stratospheric Protection Division,
US EPA